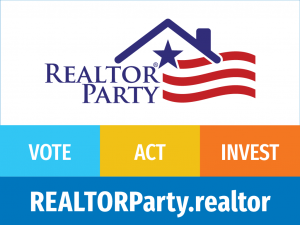 What is RPAC?
RPAC stands for REALTORS® Political Action Committee working on behalf of REALTORS® for 50 plus years. RPAC aggressively pursues the election and re-election of candidates of local, state and federal office who stand up and support real estate professional on key issues like these as well as a long List of other issues critical to our future!
Get involved by joining hundreds of thousands of your colleagues nationwide who agree that RPAC is the best investment you can make to influence your profession's long-term growth, the stability of the real estate industry, and the stability of our communities.
What is the REALTOR® Party?
The REALTOR® Party is a powerful alliance of REALTORS® and REALTOR® Associations working to advance public policies and candidates that build strong communities, protect property interests and promote a vibrant business environment.
The REALTOR® Party is the only grassroot campaign that works for the good of the Public and not a special interest group. The candidates supported by the REALTOR® Party and RPAC dollars are REALTOR® Champions and Political Affiliation makes no difference. Contributions are made to all other political parties as well, with the two major Parties having a 49% versus 50% contribution split from RPAC dollars.
Legislative Agenda:
NAR 2021 Agenda:
Diversity, Equity and Inclusion
Housing Affordability
Federal Taxation
Business Operation Issues
Fair Housing
Infrastructure
Environment
Commercial
SCR 2021 Agenda
H.3664- Criminal Background Check Update Legislation
Under current law, the Real Estate Commission is limited in the information available to them for an applicant seeking a real estate license. The current system is based on all applicants and renewals being fingerprinted. This fingerprint requirement has imposed several restrictions on the flow of information due to the high level of security that is provided to fingerprints.
Prior to the fingerprinting provisions of license law taking effect, the Real Estate Commission was provided a background check complete with all of an applicant's offenses. This helped the Commission members get a full understanding of the circumstances which mandated the applicant to appear before them. Under the new system the Commission is no longer provided such a report and instead must rely on only information provided by the applicant. 
The proposed legislation would marry the two systems allowing for both the existing fingerprinting system while adding back the previous system which relied on a background check pulled by social security number. This would give the Commission the best information possible to determine licensure and with it the ability to hold money and have a key to properties across the state.
H.3524- Prohibition of Eminent Domain for Petroleum Pipeline Companies
In the 2016 session, SCR championed legislation that would prohibit private, unregulated, petroleum pipeline companies from exercising eminent domain powers. The legislation clarified a gray area in existing South Carolina law and provided for a three-year moratorium, halting petroleum pipelines from using eminent domain to take the land and homes of South Carolina citizens. 
In the 2018 session, the House and Senate passed legislation in their respective bodies to extend the moratorium. 
SCR stands firm on the position that private property rights are essential and eminent domain should only be exercised by government entities for public use, as stated in the SC Constitution, and even then in limited circumstances. 
The current moratorium expired on November 30, 2020.
H.3524 would extend the moratorium period to June 30, 2022, allowing lawmakers additional time to continue their efforts to enact a more comprehensive, permanent solution to ensure private property rights are protected.
H.3620 - Hate Crimes Legislation
The South Carolina business community employs citizens from all walks of life and value equity, diversity, and inclusion. In order to maintain South Carolina's reputation as one the best states in the nation to live, work, and do business, the business community at large is calling for the General Assembly to join 47 other states and pass comprehensive legislation against hate crimes in our state. Such legislation would add enhanced penalties for someone who commits a crime against someone based on their demographic information. By passing such legislation, SCR along with 80+ other business groups and trade associations strive to send a message and put into practice that South Carolina is not a state that condones such crimes and that hate has no place in our great state. 
Removal of Discriminatory Covenants & Restrictions
This proposed legislation would reinforce the zero tolerance policy for housing discrimination. SCR is a strong advocate for fair housing and views any effort to decrease and eliminate housing discrimiation as a welcomed step. This legislation would create a law at the state level which would invalidate any restrictive covenant or restriction that attempts to bar housing on the basis of  race, color, religion, sex, handicap, familial status, national origin, sexual orientation, or gender identity. It would also make clear that such is the policy of the State of South Carolina.
Electronic Notary Legislation
The National Association of REALTORS® has focused on issues and policies surrounding electronic notarization in recent years.
Electronic notarization results in a more accessible, streamlined, and verifiable way to have critical transactions notarized. E-notarization preserves the traditional assurances of integrity provided by a notary with the added benefits of better fraud detection in an evolving digital commerce world. 
Such legislation would be a huge benefit as more and more members use digital signatures and rely on hard copies of contracts less and less.
SCR supports such efforts to modernize the sales transaction and to provide for increased efficiency, flexibility, and protection for consumers at closing. 
These are examples of your RPAC dollars at work! REALTOR® Champions support private property rights, homeownership rights, and promote a vibrant business environment. We have a strong voice but we need your support to keep Our Voice being heard at the Local, State and National Levels. Please consider giving to RPAC today! Click Here to Invest!