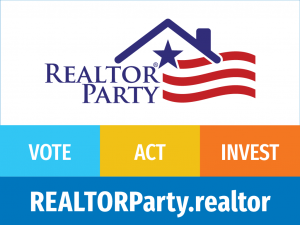 What is RPAC?
RPAC stands for REALTORS® Political Action Committee working on behalf of REALTORS® for 50 plus years. RPAC aggressively pursues the election and re-election of candidates of local, state and federal office who stand up and support real estate professional on key issues like these as well as a long List of other issues critical to our future!
Get involved by joining hundreds of thousands of your colleagues nationwide who agree that RPAC is the best investment you can make to influence your profession's long-term growth, the stability of the real estate industry, and the stability of our communities.
What is the REALTOR® Party?
The REALTOR® Party is a powerful alliance of REALTORS® and REALTOR® Associations working to advance public policies and candidates that build strong communities, protect property interests and promote a vibrant business environment.
The REALTOR® Party is the only grassroot campaign that works for the good of the Public and not a special interest group. The candidates supported by the REALTOR® Party and RPAC dollars are REALTOR® Champions and Political Affiliation makes no difference. Contributions are made to all other political parties as well, with the two major Parties having a 49% versus 50% contribution split from RPAC dollars.
2020 Legislative Agenda:
NAR 2020 Agenda:
Housing Affordability
Federal Taxation
Business Operation Issues
Fair Housing
Infrastructure
Environment
Commercial
SCR 2020 Agenda
Updated LiDAR Flood Mapping
Business license fee reform
Regulatory structure of eminent domain for petroleum pipeline companies
Housing attainability legislation
The workforce and senior affordable housing act
Rollback tax reduction
COVID-19 RESPONSE from NAR/SCR/PRAR
SCR and PRAR worked with State and Local Governments to keep Real Estate transactions as Essential Business in case of Shut Down
SCR Worked on Notary Issues and Remote Notary Law with South Carolina Governor
NAR worked Banks and financing issues
NAR worked Liability issues
NAR Worked on Appraisals for FHA and other loans
NAR Worked on Notary issues and exceptions to In Person signatures
RPAC Advocacy worked hard on your behalf to make sure Independent Contractors were eligible for Unemployment during the Pandemic, a benefit typically not available to you.
RPAC Advocacy also worked tirelessly to make sure you can continue to operate your business on the Local, State, and National Level.
If you were unable to work, RPAC worked on legislation with the CARES Act for the SBA Loans to be available to help you during the Pandemic
These are examples of your RPAC dollars at work! REALTOR® Champions support private property rights, homeownership rights, and promote a vibrant business environment. We have a strong voice but we need your support to keep Our Voice being heard at the Local, State and National Levels. Please consider giving to RPAC today! Click Here to Invest!