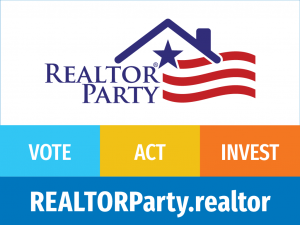 What is RPAC?
RPAC stands for REALTORS® Political Action Committee working on behalf of REALTORS® for 50 plus years. RPAC aggressively pursues the election and re-election of candidates of local, state and federal office who stand up and support real estate professional on key issues like these as well as a long List of other issues critical to our future!
Get involved by joining hundreds of thousands of your colleagues nationwide who agree that RPAC is the best investment you can make to influence your profession's long-term growth, the stability of the real estate industry, and the stability of our communities.
What is the REALTOR® Party?
The REALTOR® Party is a powerful alliance of REALTORS® and REALTOR® Associations working to advance public policies and candidates that build strong communities, protect property interests and promote a vibrant business environment.
The REALTOR® Party is the only grassroot campaign that works for the good of the Public and not a special interest group. The candidates supported by the REALTOR® Party and RPAC dollars are REALTOR® Champions and Political Affiliation makes no difference. Contributions are made to all other political parties as well, with the two major Parties having a 49% versus 50% contribution split from RPAC dollars.
SCR 2023 Agenda
2023 SCR Legislative Priorities
S.280 - SC Conservation Enhancement Act
S.280 would restore the share ($0.25 of every $1.30) of the deed recording fee previously dedicated to the Conservation Bank. This legislation will also change the makeup of the SC Conservation Bank Board from 14 to 17 members–adding the Commissioner of Agriculture, Secretary of Transportation, and the Secretary of Commerce as the additional members.  SCR supports the state's commitment to conservation, and the continued preservation of our State's resources for future generations of South Carolinians. 
Statewide Framework for Short Term Rentals
Short-term rentals (STRs) are a vital part of South Carolina's housing economy. Short term rental properties can bring a positive economic impact to a city or county through additional tax revenues and benefit the communities as a whole to fill gaps in markets where additional lodging is needed. 
SCR supports lawmakers in efforts to introduce legislation that protects an individual's property rights and that creates a statewide registration and tax remittance framework for STRs to ensure accountability. 
Removal of Discriminatory Covenants & Restrictions
SCR supports legislation that will create a law at the state level which would invalidate any restrictive covenant or restriction that attempts to bar housing on the basis of  race, color, religion, sex, handicap, familial status, national origin, sexual orientation, or gender identity. The legislation would create an administrative removal process, instead of a more costly removal process through the courts. 
This would reinforce the zero tolerance policy for housing discrimination. SCR is a strong advocate for fair housing and views any effort to decrease and eliminate housing discrimination as a welcomed step. 
Real Estate Appraisal Act Licensure Requirements
The ability for REALTORS® to be able to perform evaluations of a property is crucially important whether those be a broker price opinion (BPO) or a comparative market analysis (CMA). The current appraisal statute allows for real estate licensees to perform these evaluations. However recent developments have created a conflict over whether or not the term "value" can be used in these evaluations. To prevent this issue from continuing, SCR is advocating for having clear language added to the Appraisers' license law to allow real estate licensees to use the term "value" in their evaluations so long as those evaluations otherwise abide by the Appraisal Act.
H.3155 - Special Provisions Affecting Gas, Water, or Pipeline Companies
The proposed legislation creates a regulatory model for pipeline companies seeking to use eminent domain. The legislation would establish provisions to provide for applications, permitting, notice requirements, reporting requirements, requirements for final orders, and rehearings. The bill would direct the Public Service Commission (PSC) to promulgate regulations and provide that hearings go before the Administrative Law Court. This model would provide a comprehensive, permanent solution to ensure private property rights are protected.
These are examples of your RPAC dollars at work! REALTOR® Champions support private property rights, homeownership rights, and promote a vibrant business environment. We have a strong voice but we need your support to keep Our Voice being heard at the Local, State and National Levels. Please consider giving to RPAC today! Click Here to Invest!